Transceivers
Transceivers are ready-to-use units comprising transmit and receive functions between LANs over radio-frequency links (satellite, wireless, cable).
Burst-mode or continuous-mode of operation is supported, depending on the model. Likewise, various modulation schemes are available: PSK, spread-spectrum and continuous-phase modulations. Ancillary functions such as error correction and IP network interface are included. The underlying FPGA VHDL source code (not necessary to operate) embodied in these modems is also available for purchase.
Modules
ComBlock modules are small ready-to-use commercial off-the-shelf modules, which are configured with essential communication processing functions, including modulation, demodulation, error correction encoding and decoding, digital to analog/RF, RF/analog to digital, formatting, data storage, networking and high-speed baseband interfaces. ComBlocks are ideally suited for Software Defined Radios.
All FPGA-based modules are pre-programmed with ComBlock IP cores. Source code (not necessary to operate) can also be purchased separately.

TRANSCEIVERS
Part number
Description
Specifications
Price
Check availability
On-line purchase
COM-1905
L/S-band continuous-mode PSK transceiver
Connects two IP networks over a PSK link, up to 39.5 MSymbols/s
Custom frequency band 400MHz - 3GHz
Small enclosure 169x138x41mm
764KB
$995
COM-1918
L/S-band continuous-mode spread-spectrum transceiver
Connects two IP networks over a DSSS link, up to 39.5 MChips/s
Custom frequency band 400MHz - 3GHz
Small enclosure 169x138x41mm
732KB
$1250
COM-1927
L/S-band continuous-mode CPM transceiver + TCP server
modulations: FSK,MSK,GFSK,GMSK,PCM/FM,SOQPSK-MIL,SOQPSK-TG
Programmable symbol rate up to 39.5 MSymbols/s
Custom frequency band 400MHz - 3GHz
Small enclosure 169x138x41mm
1.6MB
$995
COM-1928
L/S-band continuous-mode CPM transceiver + IP router
modulations: FSK,MSK,GFSK,GMSK,PCM/FM,SOQPSK-MIL,SOQPSK-TG
Programmable symbol rate up to 39.5 MSymbols/s
Custom frequency band 400MHz - 3GHz
Small enclosure 169x138x41mm
2.0MB
$995
COM-1902
L/S-band burst-mode PSK transceiver
Transmits UDP frames over a PSK link, up to 39.5 MSymbols/s
Custom frequency band 400MHz - 3GHz
Small enclosure 169x138x41mm
1.1MB
$1250
COM-1931
L/S-band burst-mode spread-spectrum transceiver
Transmits short UDP frames over a DSSS link, up to 40 MChips/s
Custom frequency band 400MHz - 3GHz
Small enclosure 169x138x41mm
1.2MB
$1250
COM-1826
TDRSS spread-spectrum modem
Digital (SDDS over GbE) or S-band RF input
Up to 3 digital receivers in a 19" rack-mounted 1U chassis
815KB
Call
MODULES: RF / IF / BASEBAND
COM-4009
Digital to [400 MHz - 4.4 GHz] broadband quadrature RF modulator
LVDS input
92KB
$475
COM-4004
70 MHz IF modulator and frequency synthesizer
[0.2 - 80 MHz] range. 14-bit precision 50Msamples/s complex input
92KB
$345
COM-4410
[70MHz - 2.2GHz] 4-channel quadrature RF modulators
495KB
$345
COM-3007
[2.3 - 2.8 GHz] & [1.15 - 1.4 GHz] Receiver, AGC, A/D converters
Up to 105 MSamples/s
690KB
$345
COM-3010
[925 - 2175 MHz] Receiver, AGC, A/D converters
Up to 104 MSamples/s
92KB
$345
COM-3011
[20 MHz - 3 GHz] Receiver / SDR platform

947KB
$345
COM-3505
Dual-band 2.4/5 GHz 2x2 MIMO transceiver
947KB
$345
COM-3506
[400 MHz - 3 GHz] customizable transceiver
495KB
$395
COM-3501
UHF frequency band [225 - 400 MHz] half-duplex transceiver
Dual frequency translation, -89 dBm input, +26 dBm output
For narrow-band (<400 KHz) applications
495KB
$199
COM-2001
Dual Digital-to-Analog Conversion
10-bit, 125 Msamples/s
495KB
$199
COM-3504
Dual Analog<->Digital Converters
Dual 16-bit 250MS/s DACs, Dual 12-bit 150 MS/s ADCs
495KB
$395
MODULES: FPGA / ARM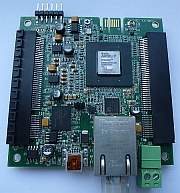 COM-1800
FPGA / ARM development platform
Xilinx Artix7-100T + ARM 32-bit micro 100 MHz + DDR3 SODIMM socket + GbE LAN
2.0MB
$445
COM-1900
[400 MHz - 3 GHz]RF + FPGA Software Defined Radio
Complete full-duplex modem hardware from RF to network interface
499KB
$995
MODULES: DIGITAL SIGNAL PROCESSING / MODEMS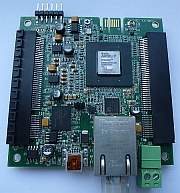 COM-1805
Continuous-mode PSK modem
Fully digital BPSK/QPSK/OQPSK modem up to 39.5 MSymbols/s
includes turbo-code, convolutional error corrections and LAN IP interface
1.5MB
$445
COM-1818
Continuous-mode spread-spectrum modem
Fully digital DSSS modem, up to 39.5 MChips/s
includes turbo-code, convolutional error corrections and LAN IP interface
732KB
$445
COM-1827
Continuous-mode CPM modem
Fully digital modem: FSK,MSK,GFSK,GMSK,PCM/FM,SOQPSK-MIL,SOQPSK-TG
Programmable symbol rate up to 39.5 MSymbols/s
includes turbo-code, convolutional error corrections and LAN IP interface
2.5MB
$445
COM-1802
Burst-mode PSK modem
Fully digital modem transmits UDP frames over a PSK-modulated waveform
Programmable symbol rate up to 39.5 MSymbols/s
includes turbo-code, convolutional error corrections and LAN IP interface
536KB
$445
COM-1831
Burst-mode spread-spectrum modem
Fully digital modem transmits short UDP frames over a DSSS waveform
Programmable chip rate up to 39.5 MChips/s includes turbo-code, convolutional error corrections and LAN IP interface
631KB
$445
COM-1202
PSK/QAM/APSK modem
Data rate up to 22 MSymbols/s USB 2.0 interface
779KB
$495
MODULES: NETWORK INTERFACE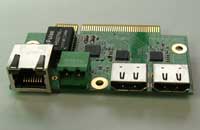 | | | | | |
| --- | --- | --- | --- | --- |
| COM-5104 | 10G Ethernet Network Interface | 87KB | $175 | |
| COM-5102 | Gigabit Ethernet + HDMI Video In/Out Interface Card | 86KB | $145 | |
| COM-5401 | 4-Port 10/100/1000 Mbps Ethernet Transceivers | 408KB | $245 | |
| COM-5101 | Signal/Power conditioning & RS422 interface | 276KB | $245 | |
MODULES: Simulators