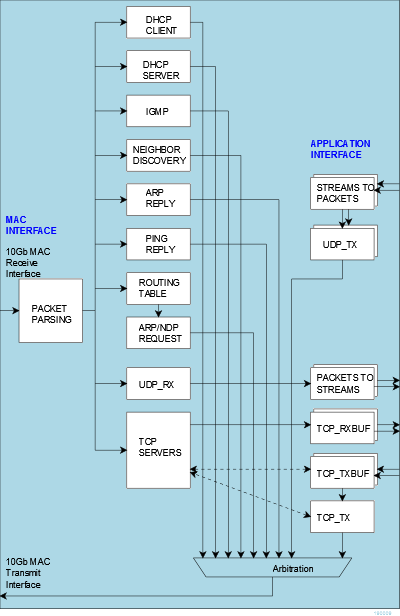 Overview
IPv4 + IPv6 Internet protocol stack designed for 10Gigabit-speed Ethernet implementation on low-cost FPGAs.
Protocols:

TCP servers (listening connections from remote clients, then bi-directional high-speed data transfer)
UDP transmit and receive, either frame by frame with flexible addressing or streaming
ARP and NDP for IP to MAC address association. Routing table with room for 128 MAC/IP records
ICMP/Ping
DHCP server for dynamic IP addresses assignment
IGMP for IPv4 multicast UDP

Modular and scalable architecture for multiple concurrent TCP connections and UDP ports.
True TCP/IP Offload Engine (TOE). All fast and repetitive tasks are implemented within:

checksum generation and verification
timeouts, re-transmissions, etc.

Flexible real-time MAC/IP/Gateway addressing.
VHDL source code included. Portable to any FPGA target capable of 156.25 MHz clock.
Documentation
Specifications
Complete VHDL/IP Core license agreement
Related products
IP/UDP/TCP clients/DHCP client stack, VHDL/IP Core
10Gigabit Ethernet MAC, VHDL/IP Core
Other network IP cores
Development platform FPGA + GbE LAN
10G Ethernet network interface

Buy
$1800
COM-5502SOFT license
$2100
Bundle COM-5502SOFT(TCP servers) + COM-5503SOFT(TCP clients)
$300
Upgrade to bundle COM-5502SOFT(TCP servers) + COM-5503SOFT(TCP clients)