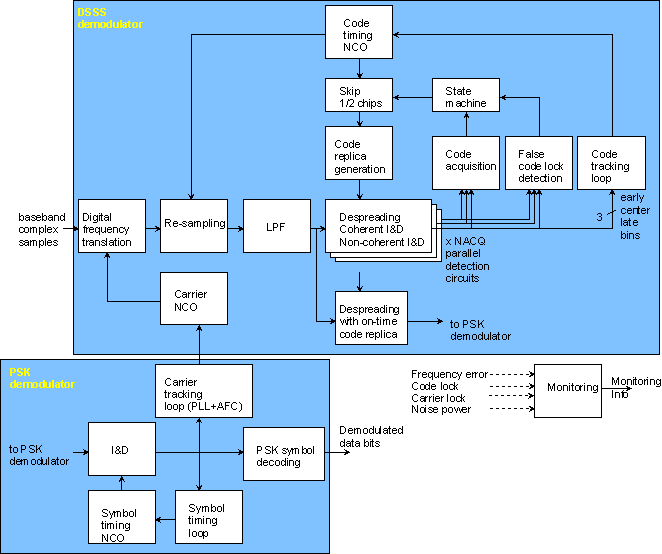 Overview
Direct-Sequence Spread-Spectrum (DSSS) demodulation of intermediate frequency (real) input or baseband (complex) input signals.
Continuous mode operation (i.e. Burst mode is not supported).
Maximum processing gain: 33 dB. Spreading factor: 3 to 2047.
Code period can be (significantly) longer than symbol period:
Maximal code period: 65535
Maximum chip rate: 50% of processing clock frequency.

78 Mchips/s Xilinx Spartan-6 -2
99 Mchips/s Xilinx Kintex-7 -2

Parallel code search for fast code acquisition. The number of parallel search circuits instantiated within can be selected by the user prior to synthesis.
False code lock prevention.
Accurate time of arrival pulse generated once per code period (can be used for round-trip delay measurement for example).
Built-in Bit Error Rate measurement.
VHDL source code included.
Documentation
Specifications
Complete VHDL/IP Core license agreement
Related products
Other demodulators IP cores
COM-1519SOFT DSSS modulator VHDL/IP core

Buy
$850